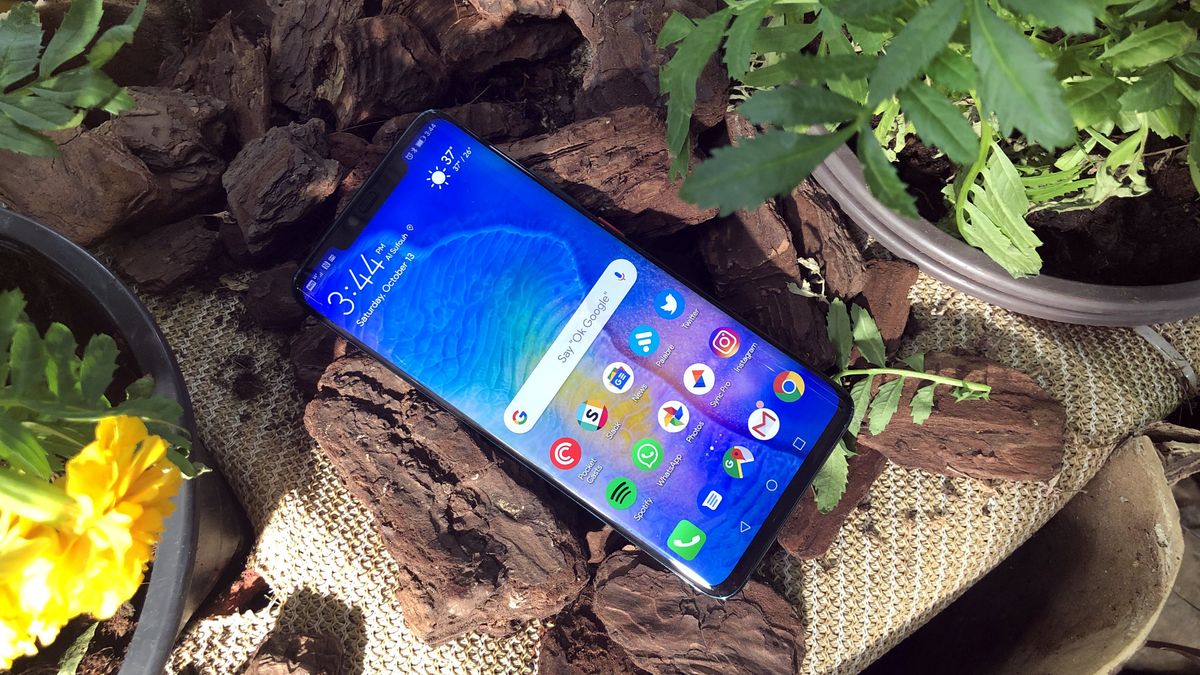 The Huawei Mate 20 Pro is the supercharged version of the 'standard' Huawei Mate 20 – also unveiled today – and it's the phone you'll want to focus on. 
While some specs are similar to its less expensive counterpart, with both handsets boasting Huawei's latest Kirin 980 7nm processor, 128GB of onboard storage and 6GB of RAM, the Huawei Mate 20 Pro is able to justify its higher cost with several impressive additional high-end inclusions.
Sporting a number of futuristic features (including one world-first) and a more premium price point than we're used to seeing from the Chinese manufacturer, the Mate 20 Pro is clearly Huawei's play for the 'best smartphone in the world' crown – and for once, the company is very much within reach, offering something we think could stand toe-to-toe with the iPhone XS and Samsung Galaxy Note 9.
We've had the handset on test for five days, and ahead of our imminent full review here's what we think so far.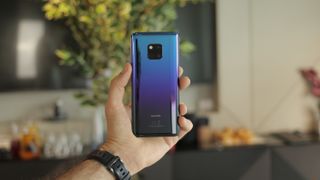 Huawei Mate 20 release date and price
In Australia, the Huawei Mate 20 Pro release date is set for November 1, with pre-orders open now – with more information set to follow for other territories.
At launch, the Huawei Mate 20 Pro price is AU$1,599 (around $1,140, £860), which is significantly more expensive than the standard Mate 20, which is priced at AU$1,099 (around $780, £590). 
Thankfully, the Huawei Mate 20 Pro's higher price point is justified by a number of premium features that are not found in the Mate 20 – many of which improve the overall user experience of the phone dramatically.
Design
With its curved glass display and colored aluminum frame, it's very easy to mistake the Huawei Mate 20 Pro for a Samsung Galaxy S9 Plus at first glance. 
Look closer, and you'll start to notice some of Huawei's signature styling and other, more subtle differences. 
Wake the phone and you're likely to immediately spot the notch cutout at the top of the display. It's significantly bigger than the Mate 20's "dewdrop" notch, though it's no larger than the one featured on the iPhone XS.
So why is the Mate 20 Pro's notch bigger than that of its more affordable sibling? It's for the inclusion of a second sensor to allow for 3D facial recognition functionality, which is said to provide more security than the Mate 20's image-based facial unlock.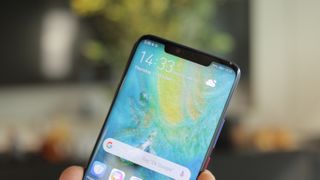 Although our tests have shown the Mate 20 Pro's 3D face unlock to be exceptionally fast (way speedier than Apple and Samsung's equivalent implementations), the Pro also offers an in-display fingerprint scanner that you can use instead. 
When locked, there's an onscreen icon to make finding it easier, although it's placed a little higher up on the phone than you might expect – about a third of the way up the screen from the bottom of the device. 
Once you acclimatize to this higher positioning though, it works quickly and flawlessly.
Speaking of design advancements that feel futuristic, the Huawei Mate 20 Pro features an honest-to-goodness world-first for a smartphone. 
While Google's Pixel 3 handsets have only just received wireless charging functionality, Huawei has taken things a step further with the inclusion of reverse wireless charging  – and yes, you read that correctly.
Compatible with any phone that boasts Qi functionality, the Huawei Mate 20 Pro is actually able to wirelessly charge another device when you place the two back-to-back. 
While it isn't exactly the fastest process, the ability to share the Mate 20 Pro's huge battery with a friend when you're out and about could be a real game-changer.
Like its sibling, the Mate 20 Pro features a trio of rear-mounted cameras arranged with the flash in a 2×2 grid. Though this array appears quite strange in images and renders, it's actually quite pleasing in person, giving the device a distinct style that can be spotted from several feet away.
Like its Mate 10 Pro predecessor, the Huawei Mate 20 Pro lacks a 3.5mm headphone jack, meaning you'll either have to embrace Bluetooth technology, purchase a dongle, or make do with the included USB Type-C earphones included in the box. 
As you'd expect, its rounded back sports both Huawei and Leica branding, though the Midnight Blue color variant also features a "hyper optical display pattern" which provides the phone with a slick textured finish and stronger resistance to fingerprints.
The phone is also available in Midnight Black and the purple-to-green gradient-styled Twilight, though both are lacking the aforementioned textured backing.
Unlike the Mate 20, which is only splash-resistant, the Mate 20 Pro does carry a full IP68 water and dust resistance rating.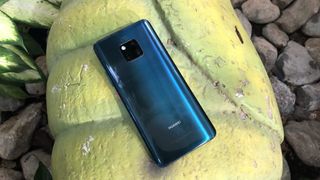 The Mate 20 Pro's power and volume buttons are arranged along the right edge of the handset, with the power button sporting red highlights – a design choice which has seemingly become a Huawei signature since the release of the P10. 
The buttons are as clicky and responsive as you would expect from a flagship device, although they are a little too close together for our liking, resulting in numerous accidental screenshots throughout the day.
On the bottom of the phone, you'll find the aforementioned USB Type-C port for charging and data transfer, alongside a slot containing a double-sided tray for holding the SIM card and that optional expandable storage module. 
For size reasons, Huawei has decided against using MicroSD for the Mate 20 Pro, instead going for a smaller new NanoSD format – which is Huawei's own proprietary design, and not yet available to purchase. 
We'll keep you posted on any developments about the format as they occur, but early indications are that it will be more expensive than MicroSD on a per-gigabyte basis and thus more inconvenient. 
Huawei Mate 20 Pro hands on gallery
Image 1 of 12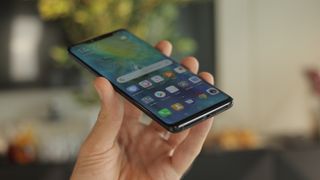 Image 2 of 12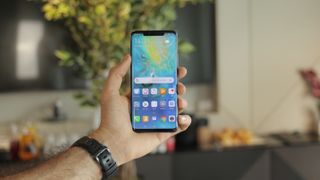 Image 3 of 12
Image 4 of 12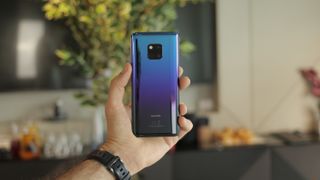 Image 5 of 12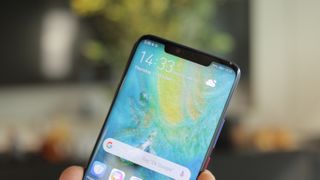 Image 6 of 12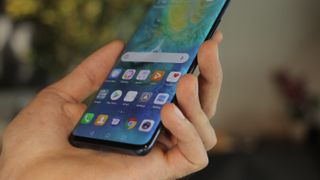 Image 7 of 12
Image 8 of 12
Image 9 of 12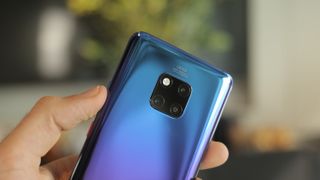 Image 10 of 12
Image 11 of 12
Image 12 of 12
Display
Packing a notched 6.39-inch OLED display with a QHD+ resolution into its slim frame, the Mate 20 Pro's screen is a noticeable step up from the standard Mate 20, which, while slightly larger at 6.53 inches, employs an IPS LCD screen with a lower FHD+ resolution. 
If you've witnessed a phone with an OLED display before (Huawei's Mate 10 Pro and P20 Pro both use them), you'll know that the display technology is capable of truly pure blacks, with an infinite contrast ratio and individually-lit pixels allowing for incredibly precise detail. 
Huawei's Mate 20 Pro is no exception to this, and when combined with the phone's HDR support, the display is capable of producing images of astonishing clarity and vibrance. 
That infinite contrast is also handy when it comes to hiding the device's iPhone XS-style notch, which can be made completely invisible in the device's settings by adding a simulated black bezel. 
Best of all, we've experienced no signs of the annoying content-adaptive backlight control (CABC), which was irritatingly featured on the Mate 10 Pro. 
CABC would automatically dim the brightness of the screen when using certain white background-heavy apps, but the change and effect could be quite jarring, making the display feel quite dim – and with no option to turn it off.
Interface and performance
Right out of the box, the Mate 20 Pro runs Huawei's EMUI 9.0 interface, which is based on Android 9 Pie. 
If you've used a Huawei phone in the last few years, you'll know what to expect from an interface standpoint – users are given the option of display all their apps in an iPhone-aping manner, or a more traditional Android-style app drawer. 
Admittedly, the EMUI interface is starting to show its age, looking practically unchanged from the one featured years ago on the Huawei Mate 9. Thankfully, users can now opt to apply a dark mode which works across all of Huawei's pre-installed apps and improves the look and feel from an aesthetic point of view.
The Mate 20 Pro is equipped with Huawei's latest Kirin 980 processor which was announced as the industry's first 7nm SoC at IFA earlier this year. Apple has since released the iPhone XS with the A12 Bionic that's also based on the 7nm process, but there isn't any other Android phone that's using it at the moment.
The new processor allows for exceptional snappy general performance throughout the Mate 20 Pro's OS, and thanks to its machine learning smarts, the phone will feel at its quickest when running your most-used apps.
The Kirin 980 has eight cores arranged in the big.LITTLE configuration — all of which are based on the latest ARM developments. It's the first processor equipped with new ARM Cortex A76 cores as well as the Mali G76 GPU. The Kirin 980 features four Cortex A76 cores and four A55 cores. 
ARM, the company that's designed these cores, is positioning its Cortex A76 as having "laptop-class performance" and according to Huawei, the Kirin 980 will have 75% higher CPU performance than the Kirin 970, while the Mali-G76 is said to offer 46% greater graphics processing power. 
Besides being fast, Huawei is also claiming that the Kirin 980 processor is a lot more power efficient – 57% on the processor side and 178% on the the GPU, to be exact.
Interestingly, Huawei has split the four Cortex A76 cores into two cores running at 2.6GHz and the other two at 1.92GHz. Each of these sets has its own voltage plane, which means that you won't be wasting a lot of power when the CPU is at high usage, such as playing a resource-intensive game.
Battery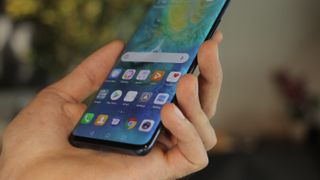 Packing a monster 4,200mAh battery, the Mate 20 Pro is expected to boast the best battery life of any Huawei phone to date. In our time with the device, we've gone a full 8-hour work day (with no charge-breaks) and still had 79% battery left. 
If you do manage to squander the Mate 20 Pro's ample battery, you'll be pleased to know that the device is capable of extremely fast charging, with its included 40W adapter said to provide a 70% charge after only 30 minutes. Wireless fast charging at up to 15W is also available. 
We'll have a more thorough idea of the Mate 20 Pro's battery life once we've run a few more of our regular benchmarks.
It will also be interesting to see how much more juice can be squeezed out of the Mate 20 Pro when the device's resolution is scaled down from QHD+, which like many other modern flagships can be easily changed in the phone's settings menu.
Camera
Huawei tends to release its new camera technology on the P series and then refine it with the Mate model that follows. That's partially true for the Huawei Mate 20 series, which features a triple camera setup like the P20 Pro that preceded it.
The Mate 20 Pro still has a 40MP primary camera as well as a telephoto lens that's fixed at 3X optical zoom. This time, however, Huawei has replaced its usual monochrome camera sensor with an ultra-wide sensor that's similar to what we've seen on the LG's V40. 
Considering that there's no longer a dedicated monochrome sensor, Huawei has tweaked the primary 40MP sensor to handle both RGB and monochrome modes.
With this ultra-wide sensor and Huawei's 3X fixed and 5X hybrid zoom, you can not only close in on any subject, but also pull out to get a much wider view, making the Mate 20 Pro the most versatile camera we've yet seen on a flagship smartphone. 
Huawei claims that the ultra-wide sensor also helps with macro photography, letting you get as close as 2.5 cm (around an inch) to the subject.  
Much like the P20 Pro, the main sensor can take photos at 40MP (with RAW support) – by default, the camera's set to 10MP and uses the surrounding pixels to either get better color information or to produce the 5X hybrid zoom.
Huawei introduced artificial intelligence (AI) into its camera last year with the Kirin 970 processor and has now doubled-down with a dual-core Neural Processing Unit (NPU – aka a CPU with dedicated AI components) on the Kirin 980 that further helps with imaging. 
You still get plenty of AI scenes that can automatically be detected and applied, with Huawei claiming that it can detect multiple objects in a photo and apply different filters to each. 
For example, it can detect sky, water, a dog and its owner in one picture and apply AI to each of them individually.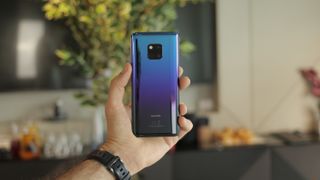 Huawei is also using the NPU for some neat tricks with focus and bokeh, such as letting you change the shape of lights in the background from circles to hearts or discs, or applying lighting effects such as stage lighting, blinds or stained glass. There's plenty to cover and we'll be be adding more detail about the camera to this review soon.
Also new with regards to the Mate 20 Pro's AI and camera is HiVision, which is basically Huawei's version of Bixby Vision or Google Lens. 
It's said that HiVision can identify landmarks, artworks or even let you shop for products that it sees through its camera, along with the ability to read QR codes or translate languages on the fly. 
Huawei's stated that it's using technology provided by Microsoft for image recognition as well as translation.
Coming to video, Huawei has added the capability to record 4K at 30fps as well as record slow-motion at 960 fps. Again, using AI and the power of the NPU, Huawei claims that it can almost remove the flickering of lights generally found when shooting in slow-motion with indoor lighting. 
Early verdict
Easily the most advanced phone that Huawei has produced to date, the Mate 20 Pro is premium in every sense of the word. Although it isn't hugely original from an industrial design standpoint, the Mate 20 Pro makes a number of significant technological leaps in other areas. 
From its in-display fingerprint scanner to its reverse wireless charging functionality, the Mate 20 Pro is a phone that feels truly futuristic. Add to this an astonishing triple lens camera setup with a 40MP primary sensor, an enormous 4,200mAh battery and a stunning QHD+ OLED display, and what you have is a phone can stand toe-to-toe with any other handset on the market. 
However, with premium functionality comes premium pricing, and it will be interesting to see if people will take to the Mate 20 Pro now that its price is equivalent to the Samsung Galaxy Note 9.
Based on our hands-on time with the device, it's clear that Huawei is on to a real winner with the Mate 20 Pro. Stay tuned for our full in-depth review in the coming days.