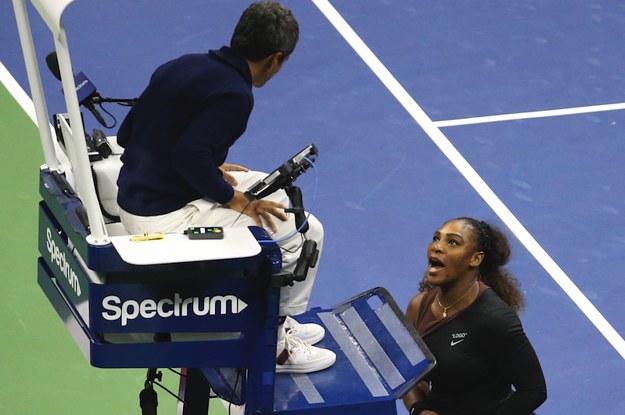 The cartoon, which was drawn by Mark Knight appeared in Monday's edition of Australian tabloid, the Herald Sun, comes after an intense final at the US Open in which the 36-year-old clashed with umpire Carlos Ramos, who accused her of receiving instruction from her coach in the stand, which is against the rules.
The image shows the 23-time grand slam winner with enlarged lips, a larger figure, a broken racket and a pacifier on the ground, suggesting her conduct at Sunday's match was childlike.
Williams was subsequently fined $4,000 for the coaching warning, $3,000 for smashing her racket, and $10,000 for the "verbal abuse" directed at Ramos, the USTA told BuzzFeed News.
Last month, his cartoon of Australian MP Jacinta Allan standing at a train platform with black figures behind her fighting and causing destruction caused outrage.
The cartoon followed her announcement that she would stop Sky News from broadcasting in Victorian train stations and was captioned: "Minister Jacinta Allan takes decisive action to keep the Victorian public safe… and bans Sky News on city stations."
BuzzFeed News has contacted Knight and the Herald Sun for comment.